Läs, lyssna, titta och sprid
Vi tar kontinuerligt fram nya rapporter och sätter ihop material för att sprida budskapet om ekocid och hur ekocidlagstiftning kommer påverka i olika aspekter. Ta chansen för att fördjupa dig ännu mer! Klicka på bilderna för att ladda ner rapporterna som pdf:er.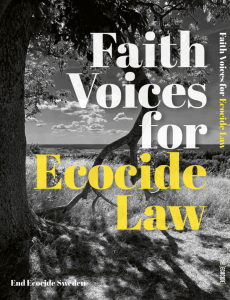 Faith voices for ecocide law is a remarkable collection of texts, drawing on the vast wisdom, teachings and practices of the world religions and indigenous spiritual traditions.
Ladda ner vårt SoMe-toolkit här och hjälp till att sprida vårt budskap i dina sociala plattformar.
Podcast med professor Philippe Sands, QC, medordförande för expertpanelen: A Crime With No Name: The International Definition Of 'Ecocide'. 1A avsnitt.
Professorn och miljörättsforskaren Jonas Ebbesson och Jonas Roupé, tar ett holistiskt grepp på lag- och ordningsfrågan. Vad händer om vi även inkluderar brotten mot våra ekosystem och naturen i brottsdebatten? Är ekocidlagstiftning en möjlighet?