Läs, lyssna, titta och sprid
Vi tar kontinuerligt fram nya rapporter och sätter ihop material för att sprida budskapet om ekocid och hur ekocidlagstiftning kommer påverka i olika aspekter. Ta chansen för att fördjupa dig ännu mer! Klicka på bilderna för att ladda ner rapporterna som pdf:er.
by Lisa Oldring and Kate Mackintosh
Ladda ner vårt SoMe-toolkit här och hjälp till att sprida vårt budskap i dina sociala plattformar.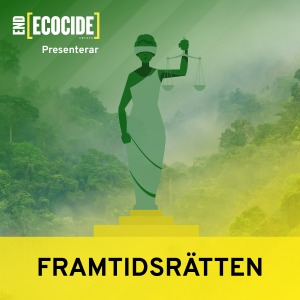 Famtidsrätten av End Ecocide Sverige
Jonas Roupé om ekocid, brottet som saknas.
Vad är ekocid? Varför är en internationell lagstiftning mot ekocid en bra idé? Hur kommer det att påverka ekonomin? En intervju med hållbarhetsexperten Jonas Roupé, som reder ut begreppen.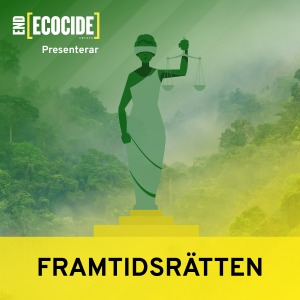 Framtidsrätten av End Ecocide Sverige
"What is the link between sustainability and ecocide law? How can an ecocide law help the economy become more sustainable and how can it mitigate climate change?
This episode – in English – contains an interview with sustainability pioneer and Professor in Sustainability Science Kristín Vala Ragnarsdóttir."
Podcast med professor Philippe Sands, QC, medordförande för expertpanelen: A Crime With No Name: The International Definition Of 'Ecocide'. 1A avsnitt.
Professorn och miljörättsforskaren Jonas Ebbesson och Jonas Roupé, tar ett holistiskt grepp på lag- och ordningsfrågan. Vad händer om vi även inkluderar brotten mot våra ekosystem och naturen i brottsdebatten? Är ekocidlagstiftning en möjlighet?