Under veckan 20-25 mars uppmanar vi gemensamt till att införa ekocid som brott i internationell lagstiftning. Vi vill visa att ekocidlagstiftning är ett förslag med potential att skydda livet på Jorden, som många stödjer. Var med i kampanjen för att #StopEcocideEverywhere!
1. Gå med och dela Facebook-eventet
2. Posta på sociala medier (Grafik här).
Join us on March 20th to #StopEcocideEverywhere! We call on the European Union to recognize ecocide in EU law in order to prosecute the most serious crimes against nature that are still not recognized. Join the mobilisation in #Europe! 🇪🇺
✊ https://fb.me/e/1czLHrfxc
3. Gör din egen bild
Ta ett foto med skylten: #StopEcocideEverywhere och berätta vad du brinner för: din skog, din älv eller det du bryr dig mest om som hotas av ekocid, tagga @endecocidesweden @ecocidelaw och bjud in andra att vara med!
4. Skriv till en EU-parlamentariker!
Ladda ner brevmallen! Här är de svenska parlamentarikerna.
5. Ordna ditt eget event (online eller på torget). (mobilisation toolkit)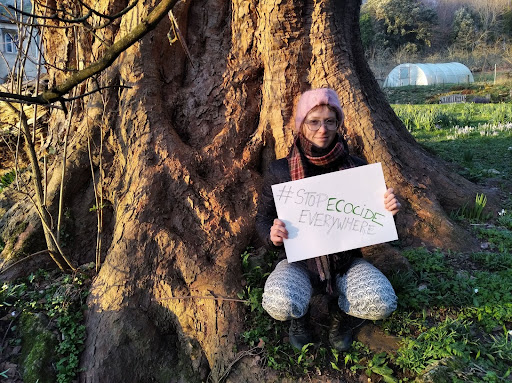 Varje dag kommer att ha ett eget tema:
21 MARS             ECOCIDE & FORESTS / INTERNATIONAL DAY OF FORESTS
22 MARS             ECOCIDE & WATER / WORLD WATER DAY
23 MARS             ECOCIDE & ENVIRONMENTAL DEFENDERS
24 MARS             SYMBOLIC ACTION IN FRONT OF THE EUROPEAN COUNCIL, BRUSSELS
25 MARS             FRIDAYS FOR FUTURE GLOBAL STRIKE / ECOCIDE & FOSSIL FUELS
Varför nu?  EU ser för närvarande över strafflagstiftningen för miljöbrott. EU-kommissionen föreslog strax före jul ett nytt Environmental Crime Directive. End Ecocide Sverige deltog i konsultationsprocessen och påpekade behovet av ekocid som internationellt brott, vilket hela 38 % av de som svarade gjorde. Ekocid är tyvärr inte en del av det antagna förslaget, men stödet växer snabbt – låt oss visa det!